Outfit of the day
Good morning to you all! As most of you probably already know I'm in sunny Spain for the moment. Every day I will share some amazing places with you so stay tuned. Today I wanted to share this outfit with you all, a very comfy dress which is perfect for these high temperatures out here. The fabric is very thin and light, perfect for a day at the beach. It's a very colourful dress and that is something I like the most about it. Life is too short to wear boring clothes 🙂 I like to mix and match, the more colours the better. The dress is from Maille Demoiselle and I bought it @Siësta a while ago.
I combined this dress with the little Bergé bag which I bought @Room For Style. This is my absolute favourite bag, it has 3 separate pockets. I always take a lot with me (I will show you this later on in this post)
The shoes are from S Oliver, I bought them @ Siësta. I think that 99 % of my shoes come from this shop so that says a lot. A woman can never have enough shoes as they say, I have a huge collection right now.
Details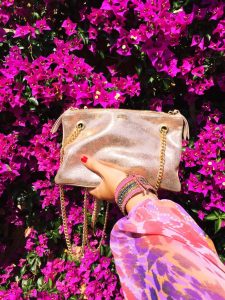 What's in the bag?
Fig Fiction hand cream from & Other Stories
Juicy shaker from Lancôme
Rituals lipstick and perfume
I can't leave the house without my lipstick, lipgloss, perfume and hand cream. I have my favourite ones that I always carry with me. The Fig Fiction hand cream from & Other Stories isn't sticky at all and the scent is amazing. After a day at the beach my hands are very dry so I can definitely use a good hand cream.
I promised to do a review of the Juicy Shaker from Lancôme, well this is one of my favourite products at this moment. When I first used it I was very surprised. This lip oil is one of the latests innovations of Lancôme and what an amazing one it is?Just shake the Juicy Shaker to mix the pigments and oil.  You will have non-sticky shiny lips.
Rituals is one of the shops where I can spend hours just looking at all the amazing products. I bought this small perfume which is perfect to take with you on holiday and of course a red lipstick.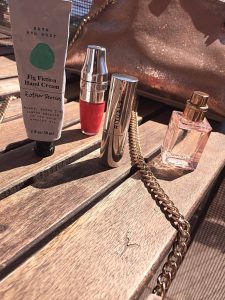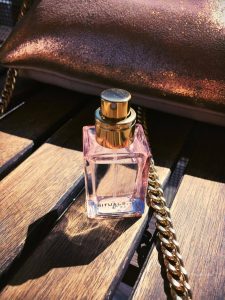 Follow me on Instagram for more outfit posts

Which are your favourite beauty products? Let me know 
Follow me on Instagram, Twitter, Bloglovin, Pinterest and Facebook to follow my journey