Apivita
In our modern society people are always busy. It's important to have a little 'me-time' once in a while 🙂 What's better than a hot shower and some amazing beauty products?  Give yourself the 'me-time' you deserve with these amazing Apivita products. I got the chance to test some samples and today I want to share my experiences with you. Keep on reading if you want to know more…
Apivita is a Greek company that has been producing natural beauty products since 1979. They offer a diverse assortment of all kind of beauty products such as facial and body care products or hair care products.  Apivita was founded by 2 pharmacists who got inspired by honeybees,  the bidodiversity of Greek Nature and probably the most important thing: the holistic approach of Hippocrates.  The two pharmacists created their first natural cosmetics and *TADA* a few years later they created APIVITA.
-"Apivita  is derived from the Latin words Apis (bee) and Vita (life) – this means 'life of the bee'.  This reflects the philosophy of Apivita, a company that, being a living organism like the bee, never stops creating value: value for society, for the natural environment and for the economy."  – Apivita
I received samples of the Rose Pepper and the Pure Jasmine shower gel.  As a marketing student the first thing I look at is the packaging. I must say that I really like the look of these products, both the samples and the bottles.   The fancy look makes we want to try them.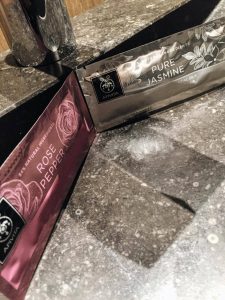 PURE JASMINE
– Sense your body
The Pure Jasmine collection is my absolute favourite, I love everything about it. This moisturizing shower gel contains essential oils and has some amazing advantages: read more about it over here.   I had never used Jasmine products before but I drink a lot of jasmine tea so I was very curious about the scent of this shower gel.  The scent is absolutely amazing,  I felt like being in a spa for a moment 🙂  Jasmine is perfect for those with a sensitive skin,  I would totally recommend this shower gel to all the people who love the 'wellness feeling' – you can perfectly create such moments at home for a good price 🙂
➖You can view the Pure Jasmine collection over here 
Products are available in Belgian pharmacies
Shower Gel 300 ml: €13
Moisturizing Body Milk 200 ml: €15
Gentle Exfoliating Cream 200 ml:  €20
Bath Salts with Essential Oils 250 gr: €15
ROSE  PEPPER
– Reshape your body
The packaging of the Rose pepper collection  is super feminine with its touch of pink roses – I absolutely love it, it smells heavenly.  This shower gel contains  84% natural ingredients. Ladies good news because this collection combats local fat on hips, thighs and waistline 🙂 Read more about the advantages over here
➖ You can view the Rose Pepper collection over here
Shower Gel 300 ml: €13
Deep Exfoliating Cream 150 ml: €15
Firming and Reshaping Body Cream 150ml: €29
Body Reshaping Intensive Serum 150 ml: €29
Body Reshaping Massage Oil  150 ml:  €25
Apivita has plenty of other product lines I haven't tested yet, such as the Refreshing Fig,  the Royal Honey (which I definitely want to try!) and the Caring Lavender line. They also have a range of products for men and children. The products are available in pharmacies.
For more information
Apivita Benelux on Facebook 
The website
on Twitter, Youtube, Instagram
*A special thanks goes out to Primetime Communication Group and Apivita who gave me the chance to review these products. 
Hey if you like this, why don't you share it by clicking on the little buttons below? Sharing is caring…
Follow me on Instagram, Twitter, Bloglovin, Pinterest or Facebook