Do you know what makes me happy? A brand with a great story. In a world of mass production I prefer to shop local and support 'smaller' companies. Most of you probably know I'm from Belgium and I'm proud of it! Our country is known for its chocolate, beer and diamonds, but we have some amazing fashion and accessories brands as well. Last week I discovered Shanna, a beautiful brand of scarves located in Liège. Whenever I discover new Belgian brands, I absolutely want to tell you about them and show some love! That's exactly what I'm going to do today…  In this blog post you can read all about Shanna! Curious? Read on if you want to know more about this brand.
The story
Chloé Renier is the founder of Shanna, this creative and talented lady began her career in fashion and designed jewelry with all kinds of materials and fabrics. But her head was full of ideas and that's why she launched a line of scarves in 2013. And again, she mixed and matched different patterns, fabrics and colors. Shanna is named after her daughter, it's a true family business and I love this personal story. Chloé even won the prize 'Business of the Year' during this contest called 'Verviétois de l'année 2014. Talking about a talented lady, right? Shanna is 100% Belgian but is being sold in a lot of different countries, a true story of success!
The collection
Do you know what I love about Shanna's collections? Every scarf is so unique and special. The scarves contain multiple patterns, fabrics or colors and in this way you can play with it and adapt it to your mood of the day. 🙂 They can be worn in very different ways and with so many outfits, I love it! I received 3 different scarves all unique in their own way and beautifully finished! Chloé pays attention to details, as you can see in this picture below. If you want to know more about Shanna, make sure to check out their website:  shanna-mode.com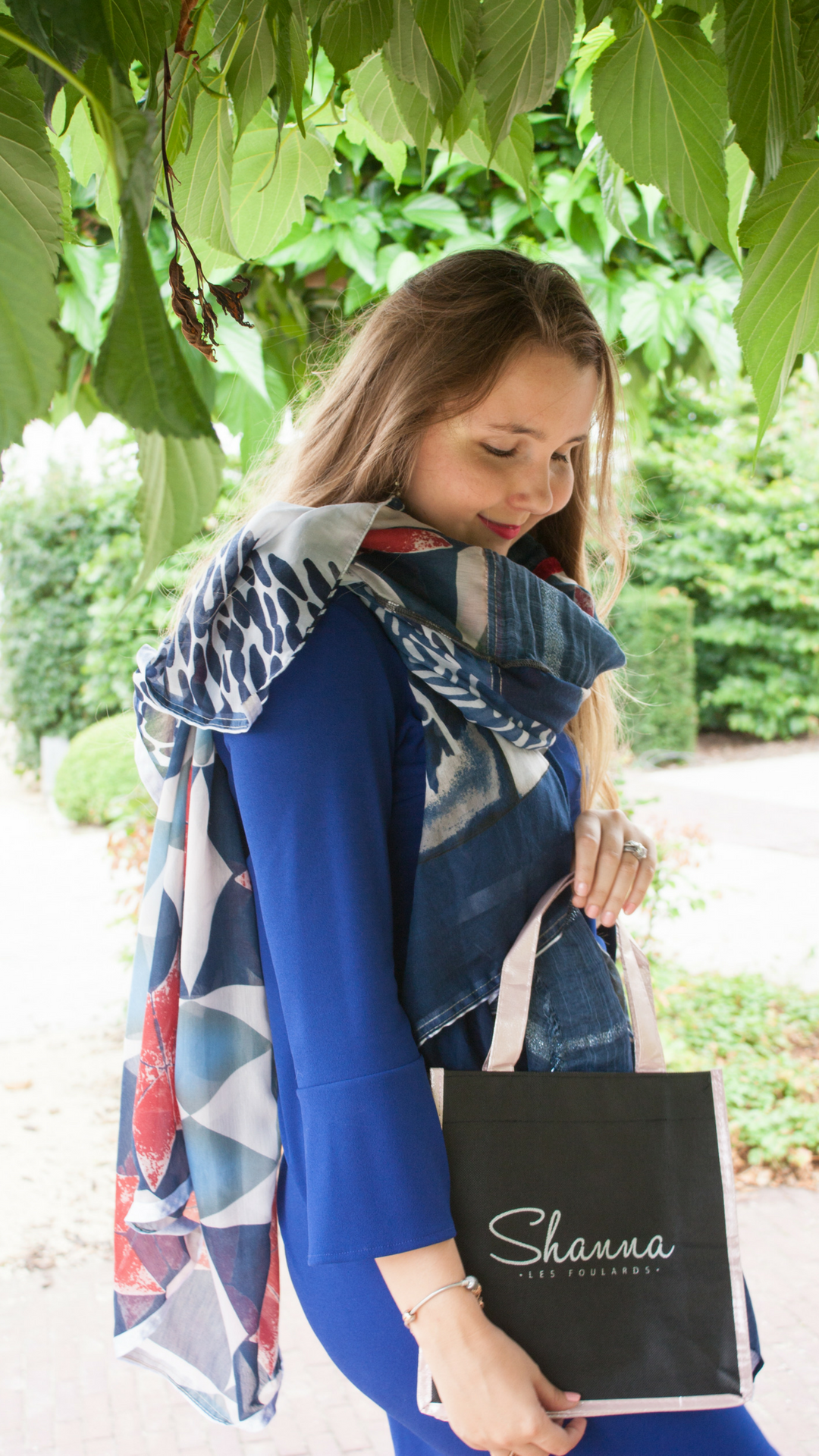 Giveaway time!
I've got some exciting news for you guys! Shanna teamed up with me to give away the beautiful blue scarf!
What do you have to do?
The giveaway is open worldwide and I'll choose the winner within 2 weeks. Good luck! Xx