" Traveling – It leaves you speechless, then turns you into a storyteller. "   – Ibn Battuta
If there is one thing I want to do it's traveling traveling and again traveling. I want to discover new places, other cultures and want to meet people from around the world. This summer Moissac and Spain are on my list. Today I left Moissac and I arrived in Spain.  Moissac is definitely a beautiful place to visit, I like to share my thoughts with you. 
I always find it very interesting to learn something about the places I visit.  I stayed in hotel 'Le Moulin De Moissac', it's a majestic place on the riverbank of the Tarn and it's only 600m away from the city center. This impressive building dates back to 1474. The view of the river is just amazing, it's breathtaking.
Moissac is a stop on the routes to Santiago de Compostela and is known for its Abbey St. Pierre. The church, dating from 1115- 30 has amazing Romanesque portals of the 12th century.  It was one of the pilgrimage roads through France that led to Santiago de Compostela.  The closest city to Moissac is Toulouse and it isn't far away from Montauban.
I enjoyed staying in Le Moulin de Moissac, the weather was amazing and I had dinner on the terrace with view of the river. The food was delicious. Every single dish looked very nice, I didn't want to eat it haha 🙂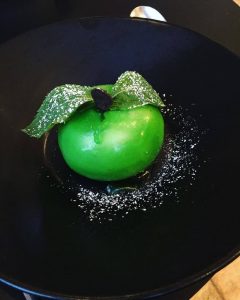 To see
---
✔︎ Saint-Pierre abbey
✔︎ Aquaduct du Cacor, which carries the barges over the river Tarn
✔︎ The Tarn River The "canal des deux mers" (it is the canal between the Atlantic Ocean and the Mediterranean Sea)
✔︎ Market days which are held in the Place des Recollets
I enjoyed my stay in Moissac, it's such a beautiful place.  Do you have a list of places you want to visit? 
Follow me on Instagram, Twitter and Facebook to stay updated