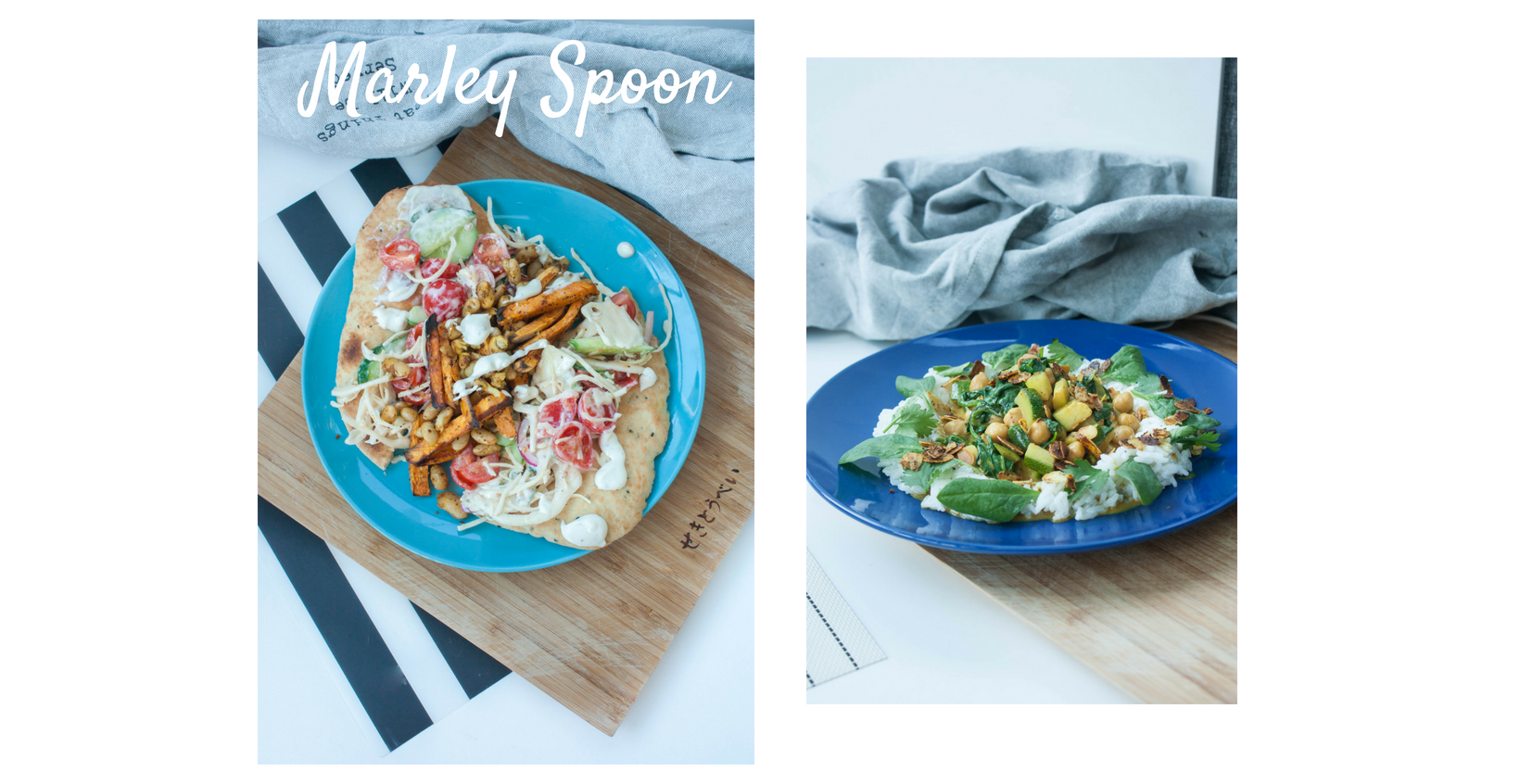 You might have seen the pictures of these wonderful meals from Marley Spoon pop up on my Instagram the last few weeks, but I haven't given you a review on the proces and taste of the end product yet.. So sit back, relax and enjoy (as you may be tasting some of the lovely dishes from Marley Spoon yourself soon)!
Chickpea Korma with Spinach and Coconut-perfumed rice
The first dish I made, well I say 'I' but actually my boyfriend did most of the work while I did some of the easier things. But before you complain, I think this gave me a better view of how the dish is prepared so I could share it with you guys! (Sure, it was all for you 😉 ) Anyway, the first dish was a no-brainer for me: Chickpea Korma with Spinach and Coconut-perfumed Rice. You have to admit the name alone makes your mouth water! This dish can be described as a bowl of comfort food and that's exactly what it is, a creamy and mild curry with lots and lots of vegetables and one of the best rice recipes I've tasted!
The lovely people at Marley Spoon include a easy to use manual / recipe for this meal, along with the most authentic ingredients. Sure you can get coconut milk in our supermarkets, but I have to admit that an authentic Thai coconut milk does have a different taste to the one's I'm used to. So this was a big plus for me! Anyway, the recipe was extremely easy to follow (or in my case, watch someone else follow!). But I did get to do some things, as I didn't want to just stand around I grabbed a pot and mixed half of the coconut milk with water and brought it to a boil. Once it boils simply lower the fire and add the rice. I was extremely surprised with the taste and texture of the rice when cooked in a coconut milk / water mixture as opposed to only using water, so I'll be doing this with all of my rice dishes from now on!
The rest of the recipe is pretty straightforward: clean and chop the vegetables, bake them along with the shaved almonds and the tandoori spice mix. When everything is baked, add the curry paste with the rest of the coconut milk and add spinach. Voila, that's it! And if you ask me, the effort going into this dish is nothing compared to the taste of the end product!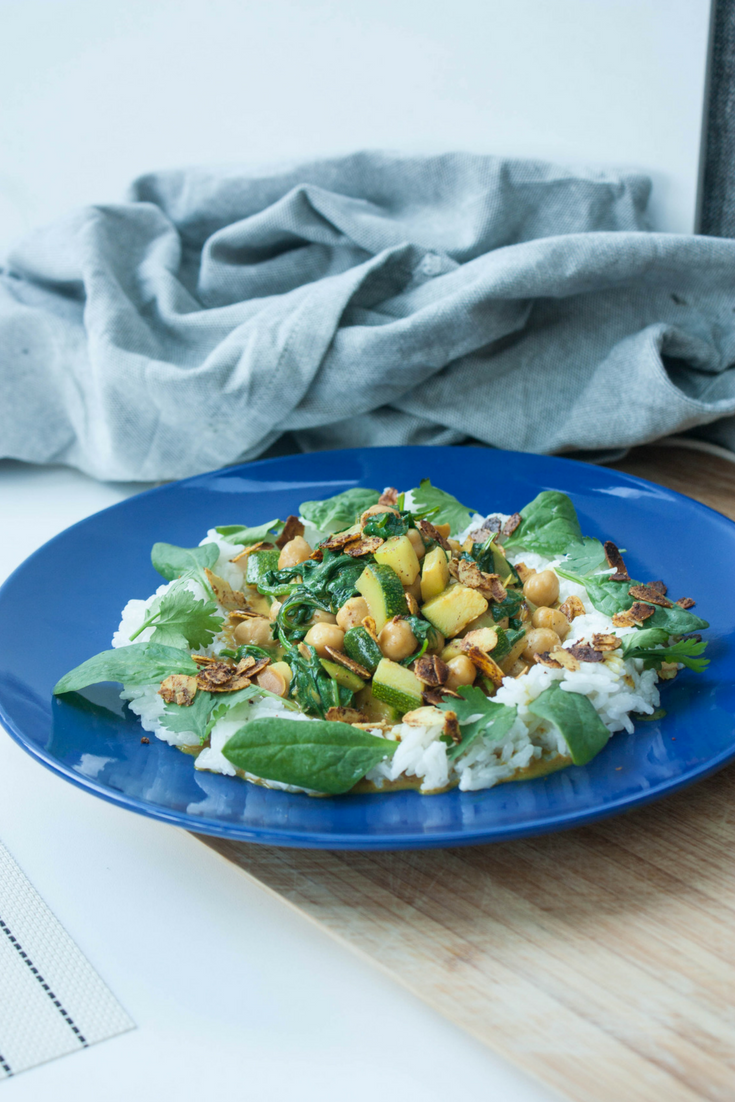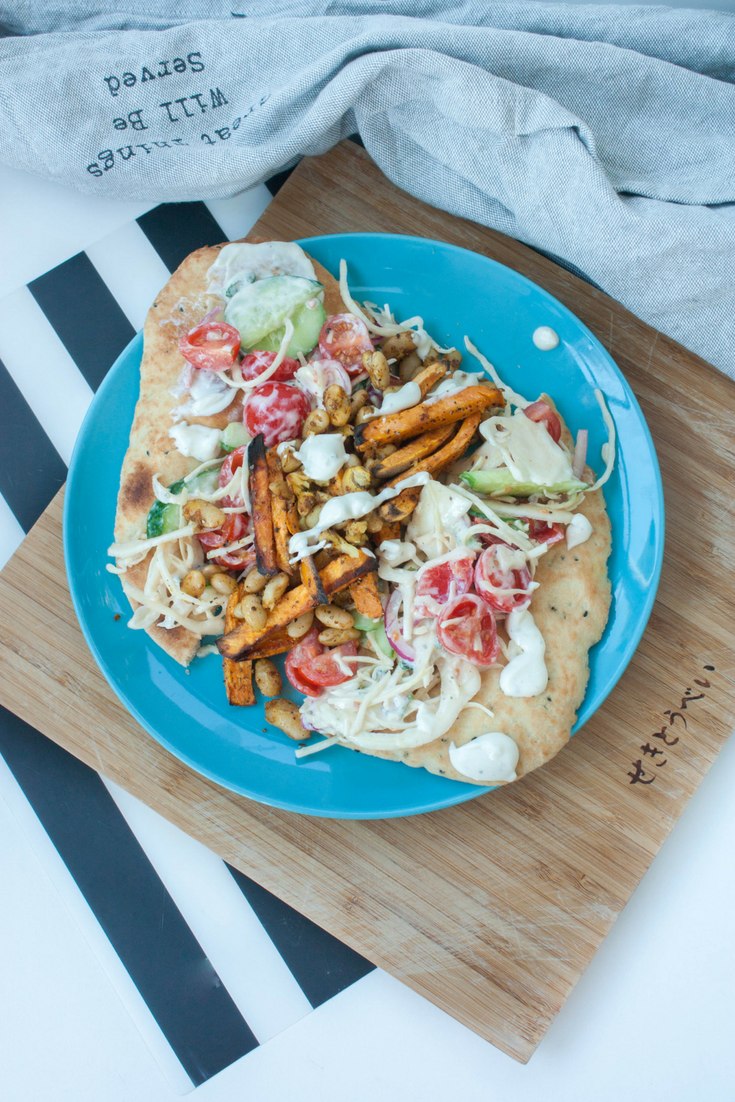 Spicy vegan shoarma on a bed of naan
Now the second dish couldn't convince my boyfriend at first sight, a Spicy Vegan Shoarma on a bed of Naan. He was expecting a classic shoarma, you know… Something with meat. But in the end I didn't hear him complain while finishing his plate! Now this dish did require a little more prep time, so I'd advise those amateur cooks among us to take your time and plan it out. Or just get a friend to cook with you as four hands get more done than two!
Start with washing and cutting the sweet potatoes into whatever shape of fries you prefer, and put them into a preheated oven for around 15 minutes. While those bad boys are baking, peel and chop an onion and mix it with a bit of vinegar, sugar and salt for a lovely pickle marinade. At this point you should still have some time left before those sweet fries are done, so take the vegetables and chop them, mix them with half of the shoarma spices and the dip sauce for a lovely spicy yet fresh salade.
Finally bake the naan bread in the oven for one of two minutes. Add the rest of the shoarma spices to the cannellini beans, mix these with the sweet potato fries and continue to bake for another one or two minutes. There we are, everything should be done now!
All that remains is deciding how to make your plate look like a piece of art, if you're curious what we did, you can check out our .. "art" on the blog! Let me know what you think and if what Marley Spoon dishes you've made or which one's you'd like to try!