©️ Kristel Van Loock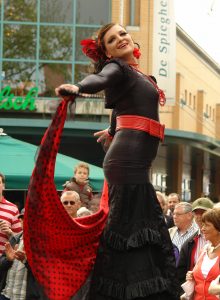 It is that time of the year again: next Saturday, the 25th of June, Leuven will be transformed into one huge outdoor theather.Of course the shopaholics are more than welcome. 🙂 I am talking about the 31th Langste Dag.  I enjoy this day, it is so nice to see all those people out there who enjoy being together with friends and family.
31 years ago 'De Langste Dag' was created  to unify several small street markets. Right now it is the biggest 'city street fair' in Belgium.  It seems that the weather is going to be good that weekend so this is the ideal time to have a drink at the 'Oude Markt'. 😉  Kappersdorp will raise money over there for Kom op tegen Kanker.
Animation
A lot of  artists will pass through the streets to ensure entertainment, such as alien contact and aero maniacs and the superheroes from Super Hero Comic Parade.  Further on you can eat a nice icecream from Ijsko Ali or what about a free candy floss from Suikertante Jannie?  Every year a 'balloon game' is organised during de Langste Dag, you
can win some amazing prices such as a weekend to Disneyland for 4 persons, 3 customized bikes and 10 gift cards of 100 euros each. De Langste Dag starts at 10 o'clock and ends at 8 p.m.. Street animation starts at 1 p.m. at the Grote Markt. For more information:   www.delangstedag.be
I will be there, Leuven is a small but amazing city, this is definitely one of the most amazing events in Leuven. 🙂
Be there is the message to you all!
This slideshow requires JavaScript.