The Body Shop – Piñita Colada
Summer is just around the corner and I am definitely feeling that summer vibe. Well I already made plans for summer, I am dreaming of the beach, sunny weather, a good book and 'muchos cócteles' – a lot of cocktails ;-). The Body Shop launched a new tropical collection of beauty products – a special edition: Piñita Colada.  I heard a lot about these products and got the chance to review them. Finally I can experience this taste of the tropical with this new limited edition range. I am very happy to share my thoughts with you.
"A cocktail of coconut and pineapple for your skin"
In rainy Belgium I am always looking forward to go on holiday. I like to go to a sunny country to enjoy the nice weather for a moment. I am already dreaming about the beach, palm trees and juicy coconuts and this is exactly the feeling I get when using the new products of The Body Shop. Tropical fruit is used to make these products – coconut and pineapple make me think of tropical destinations. Coconuts are everywhere right now – it is used in detox smoothies and if you take a look at Instagram you will probably find a lot of pictures of coconuts :-).
The products I received are the body butter, the body scrub and the body sorbet.
Piñita Colada body butter
My favourite product from this range is the body butter, the texture is amazing. My skin feels soft and this product is not sticky at all. The scent is a nice surprise as well, it is just amazing. It feels like I am drinking a pina colada, the scent is similar to the smell of that famous cocktail. This body butter is a 24 hour moisturizer for a normal to dry skin and costs €16 / 200 ml.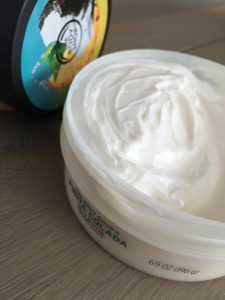 Piñita Colada Body Sorbet
I am very enthousiastic about this product, it gives my skin a fresh feeling and makes my skin feel hydrated. I really recommend this one. It is perfect to refresh yourself in summer. The scent is the same as all the other products and stays very long.  This one costs €11/ 200 ml.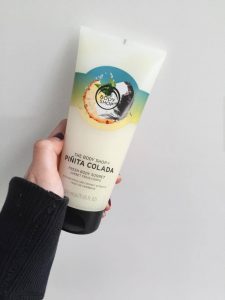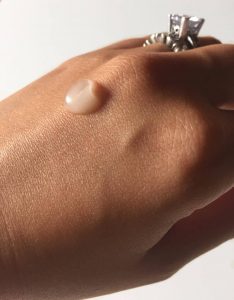 Piñita Colada Exfoliating Cream Body Scrub
I have a very sensitive skin, if I want to use new products I really have to be careful. A scrub is normally not a good choice for my skin, but this one is a fine grain scrub.  It smoothes and refines my skin and it doesn't hurt my sensitive skin so I totally recommend this to all the people with a sensitive skin. The scrub costs €18/ 250 ml.
Satisfied?
The answer is yes. I am happy that I discovered these products, a special thanks goes out to Prime Time Group who gave me the chance to review this products. I recommend the products first of all because the scent and the texture are amazing.
The body butter and scrub contain biological community trade soya oil from their supplier Gebana in Capanema, Brazil. Gebana  is against deforestation, this company encourages sustainable organic farming methods and boycotts the use of chemicals and pesticides. That is just the reason why the body shop loves to work with this supplier.  This gives me a great feeling. If I buy a product, I want it to be sustainable.
Have you already used these products and what do you think about it? Let me know.
Follow me on Instagram, Twitter and Facebook to stay updated