A good evening to you all!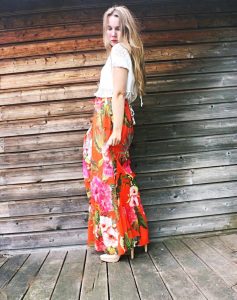 Unfortunately I live in 'rainy Belgium' but I can feel that summer is in the air. 🙂 It is easy to get that summer vibe, just put on a colourful outfit and *TADA*, it will feel like it's already summer.
I want to show you my ultimate 'summer outfit'. In this picture I am wearing a maxi skirt and top from Almagores which I bought @RoomForStyle.  Annick gave me some very good advice and this maxi skirt + top was my final decision. Maxi skirts are the ultimate trend (what an amazing trend it is!). I just love the bright colours of this skirt, it makes me feel happy.
The back of this lace top is lovely and finished in detail.  I fell in love with it immediately. The combination of this top and skirt is amazing , it is such a beautiful contrast.
The nicest part is that this dress is perfect for a day at the beach and you can even wear it for a fancy dinner. DARE TO WEAR is the message to you all.
For more inspiration/ information visit Room For Style:
➡️ Website: http://www.roomforstyle.be
➡️ Facebook:  https://www.facebook.com/RoomForStyle/?fref=ts
➡️ Instagram:  https://www.instagram.com/roomforstyle/
➡️ Twitter:  https://twitter.com/RoomForStyle