Little Louvain @Calella – hotspot number 3
---
The following days I will be showing you the most amazing places to visit in Costa Brava, including the top spots for dining, snorkling and wandering. Discover the idyllic beaches with me. The story continues…
Yesterday I went to Calella and I had an amazing time over there. Cocktails, sun and a spectacular view, that's all I need Calella de Palafrugell is considered by the British newspaper to be one of the Costa Brava's best beaches and I can see why. Read on if you want to discover the best things to do in Calella.

What to do in Calella de Palafrugell
---
Platja de Canadell
The beach @ Calella de Palafrugell is know as Platja de Canadell. Although it does get busy in Summer, I don't have the feeling that there is mass tourism over there. I was surrounded by Spanish locals and that's something I really like. The beach stretches about 210 metres in length so you will always find a spot.
There are kayaks for hire
Watersports/ diving:  It's a beautiful place to see some amazing fish
Sailing school
wandering:  follow the cliff path from Canadell to Llafranc.
Explore the Cap Roig Botanical Gardens
Bars I Restaurants
There are some great fish restaurants for those interested but our absolutely 2 favourite hotspots are Bar 3 Pins and Tragamar.
Bar 3 Pins
It was very warm yesterday so we decided to drink something under these 3 amazing trees (that's what the bar is named after).  This view is just amazing, sit down and relax. They have some great cocktails and tapas too. It's the perfect place to relax. By night you have an amazing view of all the lights.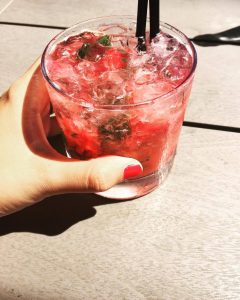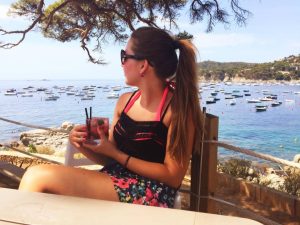 Tragamar
This is a buzzing trendy – chic restaurant, you definitely have to book a table if you want to have lunch in this restaurant. I always order some tapas – patatas bravas, edamame beans, mussels and the chicken wings ( alitas de pollo) are my favourite ones. This is one of my favourite restaurants in Costa Brava, the atmosphere is amazing over there.
For more information: http://www.tragamar.com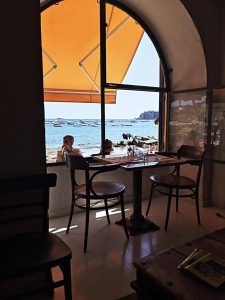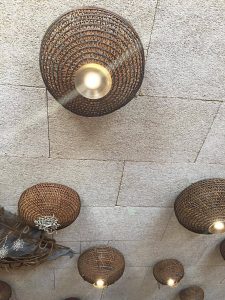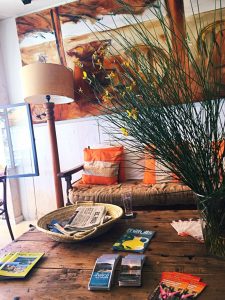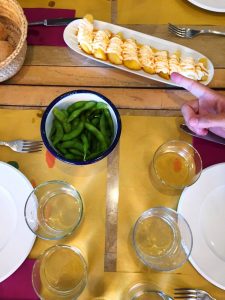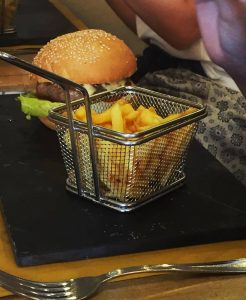 July Music Festival – the Cap Roig Garden Festival
Calella de Palafrugell is known for this festival, in 2012 this was headlined by Bob Dylan and there were other great names such as Alicia Keys and Shakira. In 2013 Elton John took part in this festival.  This year Santana takes part.
For more information: http://www.caproigfestival.com/en/
Shopping
Of course, one of the things I like the most is shopping otherwise I wouldn't be a fashion blogger. The cute little shops in Calella are amazing. On Sundays you can visist the huge market in Palafrugell, I have never seen such a huge market before. There are some lovely shops too in Palafrugell, worth visiting.
The view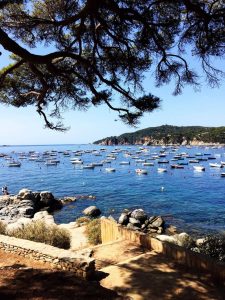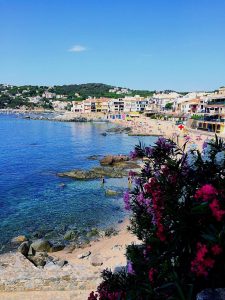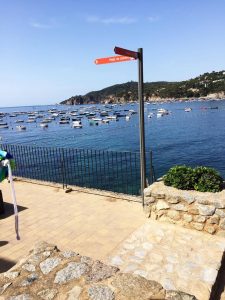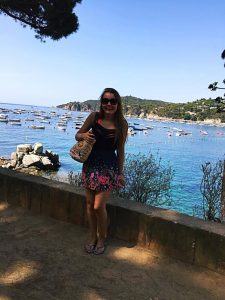 Have you ever visited Calella?  Let me know. 
Follow me on Instagram, Twitter, Bloglovin, Pinterest and Facebook to follow my journey in Spain.
5