I was really looking forward to this one week off. I've been so busy the last couple of months and there was no time to write articles.  A while ago I received a box full of Apivita products which I have been using for quite some time now. It's time to share my thoughts on this brand with you.
A while ago I wrote an entire post about Apivita, a Greek company that has been producing natural beauty products since 1979. This company was founded by 2 pharmacists who got inspired by honeybees,  the biodiversity of Greek Nature and the holistic approach of Hippocrates.  The name Apivita is derived from the Latin words Apis (bee) and Vita (life) which reflects the philosophy of the company – Bees never stop creating value and that's exactly what the company is all about.
The box included products of all kind: body lotion, a serum, day cream, masks and so on. As I've said before in one of my previous posts, I like the overall look of the packaging. These bottles deserve to be on my bathroom shelf, it's all in the details.
Rose Pepper
Although anti-cellulite products are not something I believe in, I do want to give this a try. There are some top-selling products on the market so I'm really curious.
I received the body cream and serum from the Rose Pepper product line. These products contain a combination of red pepper extract, rose and black pepper which naturally stimulates fat burning. It improves skin elasticity and firmness and revitalizes its appearance. It sounds great, right?
I applied the serum and the body cream once a day on cleansed skin with circular massage movements . The texture is very light and isn't sticky at all, it nourishes the skin immediately. The scent is probably what I love the most about this product. The combination of spicy pepper and rose is pleasant, I prefer subtle fragrances to strong ones. 
Products
Body Reshaping Intensive Serum – €31,90
Firming and Reshaping Body Cream 31,90
Ingredients
ROSE PEPPER Body Reshaping Intensive Serum has a rich formula and contains 88% natural ingredients:
Red pepper extract, Rose, black pepper essential oils, 100% natural scent of essential oils (Lemon oil, Juniper berry oil, Rosemary oil, Bergamot oil, Pine needle oil, Grapefruit oil, Orange oil, Cypress oil, Ginger oil, Petitgrain oil, Neroli oil, Fennel oil sweet), Extracts: ivy, bitter orange,  lemon , arnica, green tea, Green tea infusion
It doesn't contain parabens, silicones, propylene glycol, mineral oil, phthalates, PCM or NM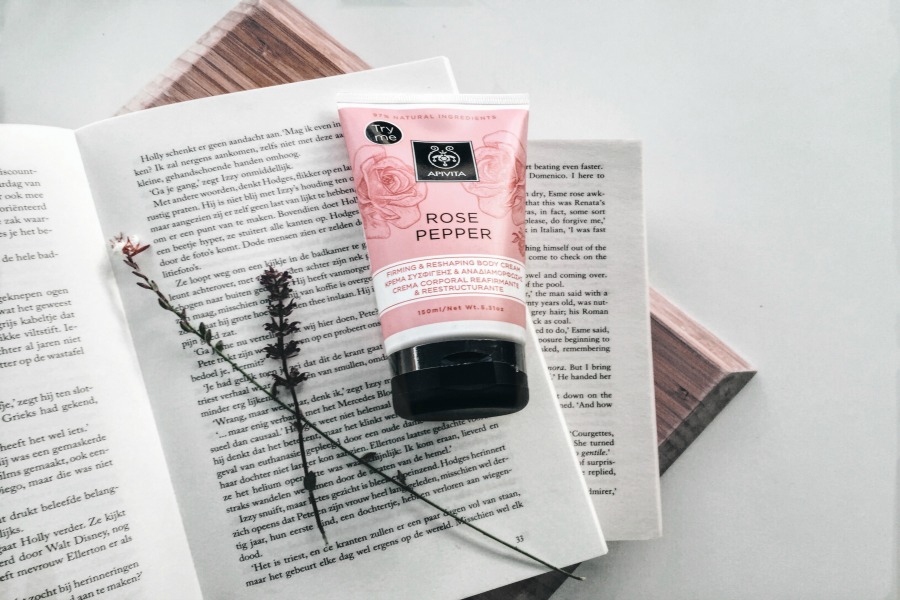 Pure Jasmine
Breathing in the scent of jasmine has a relaxing effect. The benefits of drinking jasmine tea have been known for centuries and this botanical has many benefits for your skin as well. Skin care is very sophisticated nowadays, I don't know half of the ingredients on labels and that's why I prefer natural products. Inspired by the principles of aromatherapy, this body milk treats skin by leaving it soft and lightly scented. I love how light the texture is, it is quickly absorbed by the skin and does not leave an oily feel.
Product
Moisturizing Body Milk – €15,50
Ingredients
Beewax, Shea butter, jasmine extract, almond oil, olive oil, aloe, lavender extract, vitamin E, provit-B5, bisabolol, arinine, jasmine essential oil, neroli essential oil, patchouli essential oil, greek mountain tea infusion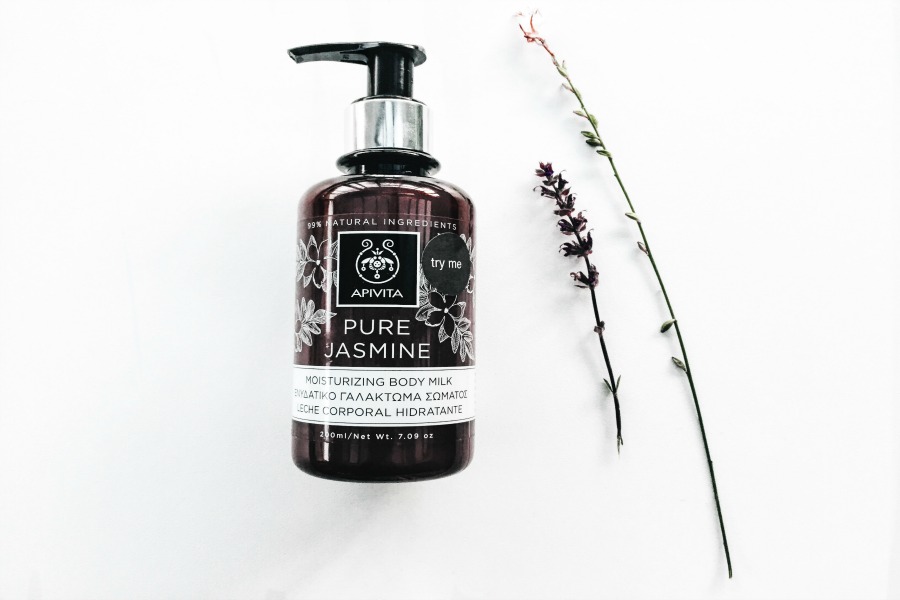 Aqua Vita & Bee Radiant
My favourite Apivita product is by far the Aqua Vita moisture serum.  Apply this serum with gentle movements morning and night on clean face before using the face cream. Well I repeat myself all over again: the scent of this serum is amazing just as all the other Apivita products. I do use the Bee radiant face cream after I've applied the serum and I carry this cream with me everywhere I go.
Products:
Intense Moisturizing and Revitalizing Serum – €38,30
Age Defense Illuminating Cream – Light Texture- €39,90
Ingredients
Serum
Chaste three phyto-endorphins, propolis extract 1, hyaluronice acid in 3 molecular weights, aloe, oat, lecithin, honey extract, oilve oil, geranium essential oil, infusion of a combination of 3 sideritis species.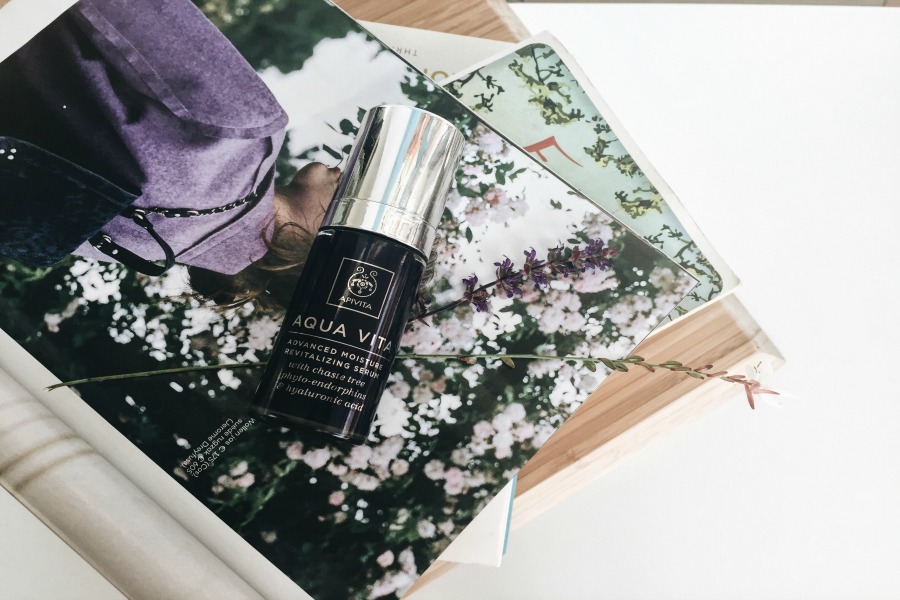 Face cream 
Orange stem cells, propolis extract 1, crocus chrysanthus, shea butter, essential oil rose, essential oil bergamot, essential oil grapefruit, wild rose infusion .
Royal Honey
Honey's often used as sweetener but well it might not surprise you that this ingredient has tons of skin benefits too. Honey is often used in face masks because of some of the following benefits: Honey has antibacterial properties, which helps in fighting acne and pimples. Besides that it's also a very good skin cleanser. Honey is a very effective moisturizer for skin. If you buy this product, APIVITA will donate 20% to the Bee Cause + You will get a FREE Bio-Eco Lip Balm with Honey.
I love honey so I wasn't surprised that I love this product as well. The scent is amazing and the texture is just as light as all the other Apivita products.
Product
Rich Moisturizing Body Cream- €19,80 
Ingredients
Apivita moisturizing complex with Greek thyme honey, beeswax, cocoa butter, shea butter, aloe, lavender extract, almond oil, olive oil, vitamin E, sodium hyaluronate LMW, Provit- B5, Bisabolol, beeswax absolute, orange essential oil, rose essential oil, Greek mountain tea infusion

Well it's clear that I'm a huge Apivita fan! Have you ever used Apivita products?
*This post contains free products but I always give my honest opinion about every product.