Leuven, one of the coziest and smallest cities in Belgium. It has so much to offer and that's exactly why I started this blog. Well I'm writing about a lot of different cities in Belgium, but Leuven has always been my favourite one. It's the place where my grandparents took me out to dinner, where we spent hours having a great time. If you've read the article in Goesting Magazine, you do know my favourite shops in Leuven. Time to tell you all about them!
I don't like going to big chain stores like Zara or H&M. I love to support local Belgian shops. Last month I got the chance to show a journalist my favourite shops in Leuven. the result? 3 pages about my favourite shops: Cyaankali, LIV, Thelma Coffee & Design, Profiel and Mixte!
Cyaankali
Make the best of a bad bargain
This is what I call 'the paradise of designer clothing'. At Cyaankali you find designer items from brands such as Ann Demeulemeester, Dries Van Noten, Prada and Isabel Marant. Have you ever bought an item that didn't fit? Make the best of bad bargains. Bring your items to Cyaankali and make someone else happy. There are certain rules: all the items are maximum two years old. These are high quality items, there is no 'visible' damage.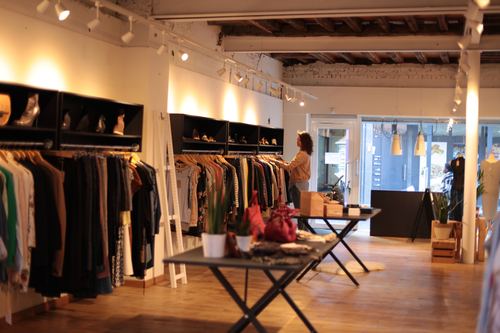 Thelma Coffee & Design
Minimalistic I Scandinavian
Thelma is definitely my favourite place in Leuven to enjoy a nice cup of coffee and something to eat. This is a total concept full of design, clothing and coffee. If you're looking for creative gift ideas, this is probably an amazing place to get inspired. @ Thelma I always find brands I have never heard of before and that's just a great way to discover new brands.
The place is very Scandinavian inspired and everything you see is for sale.
LIV
Eyecatchers
Scandinavian fashion is really my cup of tea, that must be clear right now. LIV is another great shop in Leuven where you can find Scandinavian inspired items. These items are most of the time a little bit more expensive, but I do believe it's nice to have a great eyecatcher in your closet. It's one of my favourite places to discover new brands.

Profiel
Designer items
A beautiful authentic building with baroque facade, squeaky floor and many great designer pieces. This is one of the most amazing buildings in leuven. Discover different designer items in the outlet on the top floor. They have a wide range of different brands such as Dries Van Noten, Claska, Hunza and Essentiel.
Mixte
Mix and match
Mix and match, that is what this shop is all about. There are a lot of new items coming in on a regular basis. That's a great advantage for customers: you can discover new items every single time. They have a wide range of different brands and you can perfectly combine them all.
What are your favourite shops in Leuven?
Let me know in a comment!
Elien